About this Newsletter and FREE to a Good Home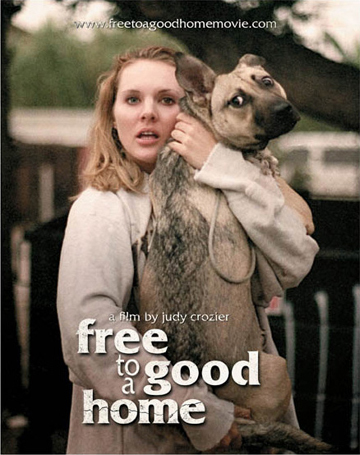 If you are hearing about FGH for the first time here is some basic information.

The Newsletter
The FGH newsletter will notify you of special events related to our feature film, FREE to a Good Home, including screenings, fundraising events, film festival announcements, distribution and how you can get the film for educational purposes.

The Story
"FREE to a Good Home" is a gritty, realistic, fictional feature film written, directed and produced by Judy Crozier. It reveals the journey of Tala Loreto (Katherine Norland), a naïve Wyoming tomboy lured into the emotional world of rescuing stray dogs. Inspirational and informative, this film champions a young woman who finds herself through challenging the system, one life at a time.

The Film
Footage of "FREE to a Good Home" has been seen throughout Asia, and has also been used by the Doris Day Animal League to pass legislation. Most recently, footage was used by In Defense of Animals for a commercial and by New Leash On Life (NLOL.org) for their media kit. When completed, the film will be used to raise awareness and funding for rescuers in LA, and throughout the country.

Our Thanks!
We need your help to get the word out about upcoming fundraising events. Please, please forward this newsletter: your support is essential to the completion of this movie.

EMAIL US if you would like us to mail you a packet of postcards for your mailing list or for just handing out. Or if you would like to coordinate a screening event in your city. (Until the film is completed and distributed, only a earmarked portion of a screening events procceds will be donated to the Humane Group that coordinates the event. Once the film is completed arrangements can be made for usage of the film at fundraising events.)

Thanks again to ALL of you who have already provided help with the movie and to those who plan on attending the events. I am so very grateful for your ongoing support!

Please visit our website at the link below for the Synopsis, Cast and Crew Bios, Info on Events and to view our Trailers!
Check out our NEWLY redesigned Website! FREE to a Good Home MOVIE