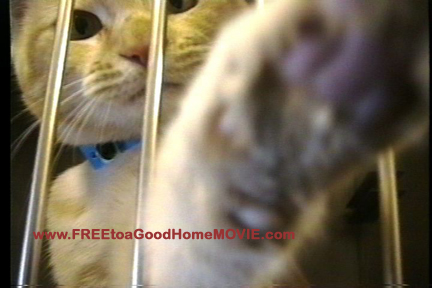 FGH July 2004 Newsletter
Info on where you can see a screening of the film!
PLEASE FORWARD
our FGH Newsletter to every person you know!
and PLEASE Post our NEW postcards!
This grassroots film about grassroots animal rescuers needs some grassroots publicity!
In This Issue:
-It is NOT an Urban Legend! PART TWO
-Fundraising SCREENING Event Scheduled!
-FGH Tshirts and Postcards are in!
-The details on how you and your friends pets can be on our poster are on our website!
Pictured in Still Above
A still from the film, kitten at animal shelter.
---
This is NOT an Urban Legend!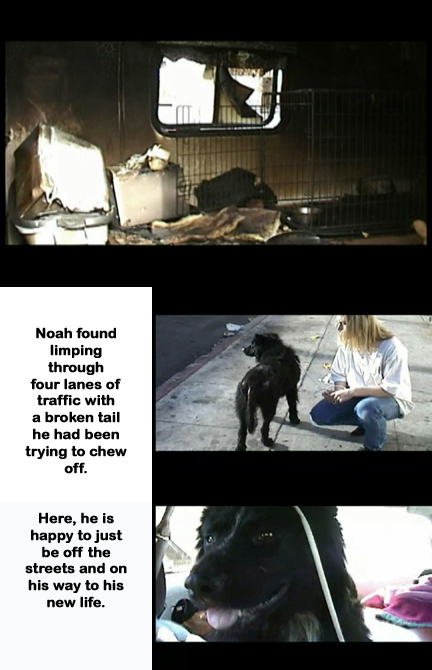 During the making of the film
Director, Judy Crozier
lost her home and five pets to a fire
while she was out filming. Only one
pet survived, a cat, with one blue
eye and one green eye just like her
lead actress, and while almost
everything was destroyed, the film,
somehow survived.

Crozier decided to use her burned-out
home in the film, since they were
using it as a location. Clips from this
footage can be seen in the Rock
Trailer on the website. A still frame
is pictured here.

And here is the more…

Actor and Associate Producer, Jenna Edwards,
suffered injury and more from being one
of the numerous pedistrians struck during
the Santa Monica Market Crash one
year ago July 16th.

How can so much happen to one film?

On the good news side, the cast and crew
during the making of the film rescued
and adopted over 30 animals. From filming
on the streets, several animals were
rescued after being found/filmed and
swept up off the streets of LA by
Crozier and Norland.

Noah, seen here, and Bella, who can
be seen on the trailers page, are two such
lucky pets. (Fostering, medical care and
adoption placement was aided by
New Leash on Life.)

Do you have one of the movie's
rescued pets? Tell us your story.

---

---
Wine Tasting & Hors d'oeuvres FGH Fundraiser

We cordially invite you to
wine tasting & hors d'oeuvres FGH Fundraiser
July 10th 7-10PM
Village Art Gallery
458 N. Rodeo Dr.,
Beverly Hills, CA 98710
RSVP 818.872.6344
(Dress is Elegant Casual)

FGH SCREENING
At the Art Gallery on July 10th we will be auctioning off "tickets"
using a "pledge-match" donation, ie someone offers to pledge
for instance: 100 dollars and challenges collegues and friends
to match the donation both donators will receive GOLDEN
Chocolate Tickets to the screening.
---
SCREENING
July 17th 4PM
Raleigh Studios

Suggested Donation
25$ per seat

RSVP 818 872 6344
RSVP early seating is limited!

We are also working on a New York Fundraiser screening and a fundraiser in Missouri, if you can help those event planners please contact us!
click here for more info
---
FGH Tshirts are available!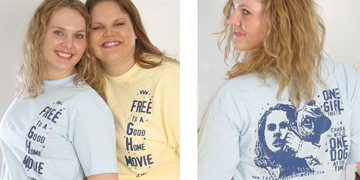 TShirt Fundraiser
s, m, lg, xl
15$ each

Our Tshirts also come in Army Green and Gray!

We are also selling Jezebelle's! See our Links page!
---
---
Rabbit Rescue Rabbits Available For Adoption!
For more info on these fabulous bunnies check out their bios on the site link below!

If you would like your animals in our future newsletters please contact us at FREEtoaGoodHome@aol.com.
RabbitRescue
---
About this Newsletter and FREE to a Good Home

If you are hearing about FGH for the first time here is some basic information.

The Newsletter
The FGH newsletter will notify you of special events related to our feature film,
FREE to a Good Home, including screenings, fundraising events, film festival
announcements, distribution and how you can get the film for educational purposes.

The Story
"FREE to a Good Home" is a gritty, realistic, film written, directed and produced by Judy Crozier. It reveals the journey of Tala Loreto (Katherine Norland), a naïve Wyoming tomboy lured into the emotional world of rescuing stray dogs. Inspirational and informative, this film champions a young woman who finds herself through challenging the system, one life at a time.

The Film
Footage of "FREE to a Good Home" has been seen throughout Asia, and has also been used by the Doris Day Animal League to pass legislation. When completed, it will be used to raise awareness and funding for rescuers in LA, and throughout the country.

Our Thanks!
We need your help to get the word out about upcoming fundraising events. Please, please forward this newsletter: your support is essential to the completion of this movie.

EMAIL US if you would like us to mail you a packet of postcards
for your mailing list or for just handing out.

Thanks again to ALL of you who have already provided help with the movie and to those who plan on attending the events. I am so very grateful for your ongoing support!

Please visit our website at the link below for the Synopsis, Cast and Crew Bios, Info on Events and to view our Trailers!
---
Remember, PLEASE, PLEASE, PLEASE FORWARD and CROSS POST!
---
unsubscribe Unsubscribe