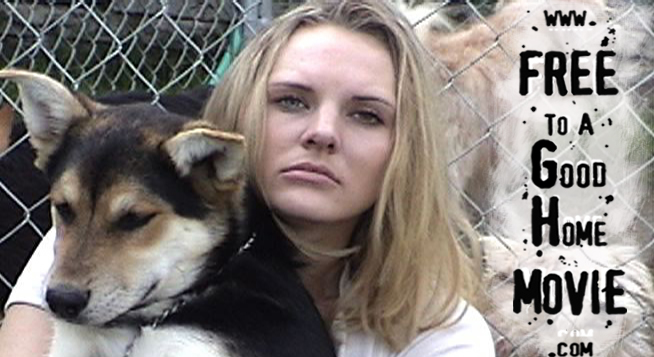 FGH January/February 2005 Newsletter
PLEASE FORWARD
This grassroots film about grassroots animal rescuers needs some grassroots publicity!

Please forward this newsletter to just ONE person who might not be already receiving it.
In This Issue:
-FGH Writer/Director, Judy Crozier guests on MidWest Radio Show March 10th
-Movie Screening April 9th at Raleigh Studios
-Best Friends and Nuts for Mutts Events
-Ongoing Fundraising FGH Tshirts, Jezebelle's and MORE!
-The details on how you and your friends pets can be on our poster are on our website!
Pictured above:
Katherine Norland as Tala Loreto

If you cannot see the images here please go to http://www.freetoagoodhomemovie.com to open the Newsletter as a WebPage.
---

---
---



Tell a Friend to Listen for us on the Radio in the MidWest

March 10th 9AM - 10AM Central Time
Writer, Director Judy Crozier will be a guest on The Pet Talk Program
on KOKX-AM 1310 Radio in Keokuk, Iowa.

The broadcast can be heard in:
Southeast Iowa
Northeast Missouri
and
West Central Illinois.

If you know someone in these areas please forward this newsletter and tell them to tune in!
---
Best Friends Super Adoption March 5th
Nuts for Mutts March 20th

Download and Distribute the Best Friends Flyer!
Download PDF flyer from our website to print out and distribute!
Let's make this the BEST SuperAdoption EVER!

Nuts For Mutts is looking for Volunteers!
Click on the Nuts for Mutts link on our website to find out more!

Hot off the Presses! Rescue News!
Animal Avengers prevails in Court against adopters who breech adoption contract and euthanize newly adopted dog!
For details click Links on our website. Updates will also hit our FGHMovieBlog page, and FGHAnimalIssuesBlog and press page!

Also on rescue blog are updates on the Kern County Situation.
Please post your comment and keep checking back for updates!
Click here for the PDF download or to Volunteer
---
Get your FGH Tshirt!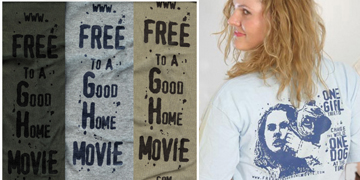 TShirt Fundraiser
s, m, lg, xl
15$ each

Our Tshirts come in Army Green, Gray, Tan, Yellow, and Baby Blue!
Call or Email us for special orders!

---



FGH Jezebelle's Fundraiser

All Jezebelle's $10 each
FREE gift with EACH purchase!
(see website for details)

Ask us about Wholesale Rates
FGH is an official rep for Golddiggers Jezebelle's.

Each wholesale order or retail purchase supports the film.
---
---
Available For Adoption!
For more info on these critters click on our FGHRescued link!

If you would like your animals in our future newsletters please contact us at FREEtoaGoodHome@aol.com.
FGHRescued
---

---
About this Newsletter and FREE to a Good Home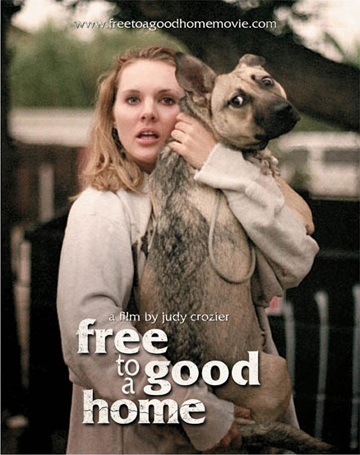 If you are hearing about FGH for the first time here is some basic information.

The Newsletter
The FGH newsletter will notify you of special events related to our feature film, FREE to a Good Home, including screenings, fundraising events, film festival announcements, distribution and how you can get the film for educational purposes.

The Story
"FREE to a Good Home" is a gritty, realistic, fictional feature film written, directed and produced by Judy Crozier. It reveals the journey of Tala Loreto (Katherine Norland), a naïve Wyoming tomboy lured into the emotional world of rescuing stray dogs. Inspirational and informative, this film champions a young woman who finds herself through challenging the system, one life at a time.

The Film
Footage of "FREE to a Good Home" has been seen throughout Asia, and has also been used by the Doris Day Animal League to pass legislation. Most recently, footage was used by In Defense of Animals for a commercial and by New Leash On Life (NLOL.org) for their media kit. When completed, the film will be used to raise awareness and funding for rescuers in LA, and throughout the country.

Our Thanks!
We need your help to get the word out about upcoming fundraising events. Please, please forward this newsletter: your support is essential to the completion of this movie.

EMAIL US if you would like us to mail you a packet of postcards for your mailing list or for just handing out. Or if you would like to coordinate a screening event in your city. (Until the film is completed and distributed, only a earmarked portion of a screening events procceds will be donated to the Humane Group that coordinates the event. Once the film is completed arrangements can be made for usage of the film at fundraising events.)

Thanks again to ALL of you who have already provided help with the movie and to those who plan on attending the events. I am so very grateful for your ongoing support!

Please visit our website at the link below for the Synopsis, Cast and Crew Bios, Info on Events and to view our Trailers!
---
Remember, PLEASE, PLEASE, PLEASE FORWARD and CROSS POST!
If you know a friend who does not know or understand what you, as a rescuer does, please suggest they come to the films screening. And use the forward box at the bottom to forward to friends who might be interested in seeing the film or helping us with our journey. Thanks!
---
unsubscribe, if you must. ) : Unsubscribe